Posts tagged
sandra bullock
Behold the awesome decision-making prowess of America's sweetheart actress Sandra Bullock. Not only does she pick really creepy guys she thinks she can "fix" she also thinks adopting a black baby and raising him as a single Mom is a really cool thing to do.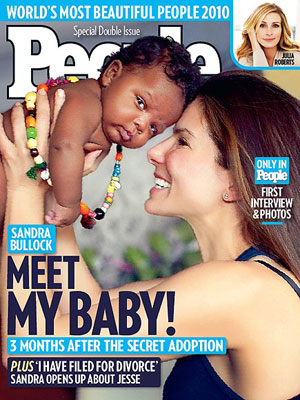 From PopSugar here:
Sandra Bullock had two big stories to announce this morning — she's filing for divorce from her husband Jesse James in the wake of his cheating scandal, saying, "I'm sad and I'm scared." Sandra also is on the cover of People with the son they adopted and kept secret since January! Their baby Louis Bardo Bullock entered the family from New Orleans just before the Oscars, after Sandra and Jesse started adoption proceedings more than four years ago. She's now finalizing the process as a single parent.
Nothing plugs that big gaping hole in your heart like a black baby. Raising a black kid alone? Hell, all the "sistahs" are doing it with no apparent ill effects on society at large, right?
Like This Post? Rate it and tell your friends! Click the Share button below.
(No Ratings Yet. Rate It!)
Loading ...